5 Tips for Your First Facebook Video
Sun Nov 11 2018
Preston Ridley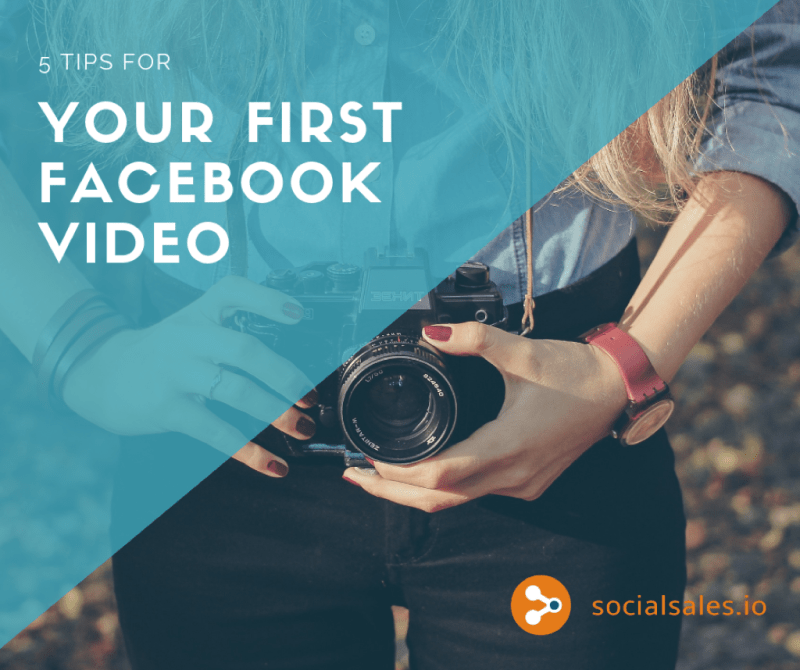 Video content continues to top the charts of social media trends and it figures to only expand. In many ways, video content is no different than that of any other content you share on social media. You need to convince your followers to stop scrolling and watch your video, you want to provide them information that is valuable and engaging, and you want a clear call-to-action at the end.

Sounds like a pretty standard marketing funnel right? But, what techniques can be used to get more people to take action after watching your Facebook video? Here are 5 tips for your first Facebook video.


How long should my video be?

A study by Locowise of video viewership on Facebook found that the average view duration was 18.2 seconds. Initially, this surface-level metric might lead you to keep your videos to 20 seconds or less.

However, a Buzzsumo report analyzing the number of viewer interactions found videos less than 30 seconds long garner the fewest number of interactions.

So, while on average viewers may only watch 18.2 seconds of your video, they are more likely to take action after watching the video if it is between 60 and 90 seconds long.


Skip the introductions

Given an 18.2 second average view, it is critical that you state your point quickly, or risk the viewer moving on before you've scratched the surface of presenting your message. Skip the introductions and make an enticing point early in order to engage them throughout the entire video.


Portrait vs Landscape

When recording, should your phone or camera record a vertical or horizontal ratio? Again, try to remember the prospect that is scrolling through their timeline and stopping at your video. In most cases, if the prospect has to turn their phone to the side in order to maximize their watching experience, they are likely to disengage before your message reaches them.

Many people assume their video will be autoplayed on a mobile device, in portrait view, and optimize their video for those ratios.

If you are creating a video to be used in an ad, pay particular attention to Facebook's recommendations for the aspect ratio that best fits your ad format.


The silent majority

Many will watch your video with the sound turned off, so add subtitles to help viewers follow along. Strike the right balance of entertainment and information to deliver your message, but also keep your viewer engaged.

Wondering what topics people are most interested in when watching videos? Buzzsumo's analysis found "hacks, tips, and how-tos perform particularly well," along with "inspirational and humorous videos."

Finish your video with a clear call-to-action for those who have followed along and are interested in learning more.


What help does Facebook provide?

If you are creating a video for a Facebook ad, consider using Facebook's new Video Creation Kit to generate your video. The kit provides a number of templates, which vary according to your specific ad goal, and assists in the creative process by pulling in existing photo assets, logos, and overlays.


Video can be somewhat intimidating at the start. Focus on the information you are providing, and less on yourself. Viewers will quickly shift their focus from the person talking to the words they are saying.

The best advice on video creation, like most other social media marketing techniques, is to get started and understand that you will improve with practice. Try new methods for engagement, and analyze your results, to see how they perform compared to your previous efforts. Above all, prioritize value to your followers over selling them something, and they will keep coming back for more.