Socialsales.io Launch Day is Finally Here
Mon Dec 10 2018
Preston Ridley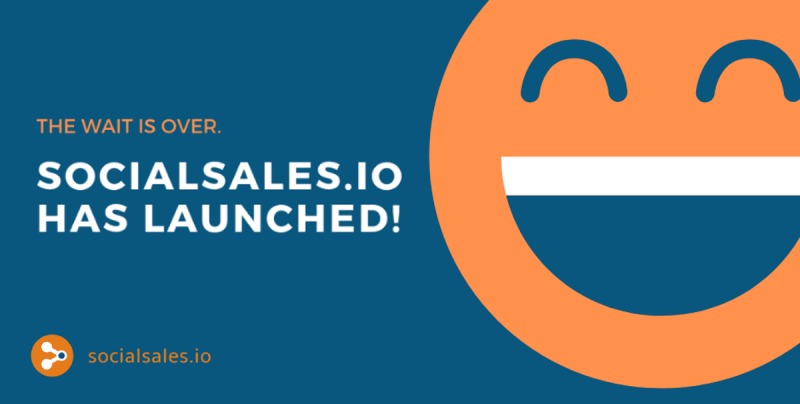 Does it feel like you are spending hours and hours trying to grow your brand on social media when you could be spending that time focusing on building your business?
Starting and growing your own business can be exhausting. Throw in the ever changing social networking trends and you'll quickly find yourself without enough hours in the day.
4 Social Media Marketing Tools in 1
Save time and money by only having to learn one social media tool to grow your business.
Socialsales.io provides a repeatable blueprint for social selling that will allow you to meet your buyers wherever they are in the purchasing cycle.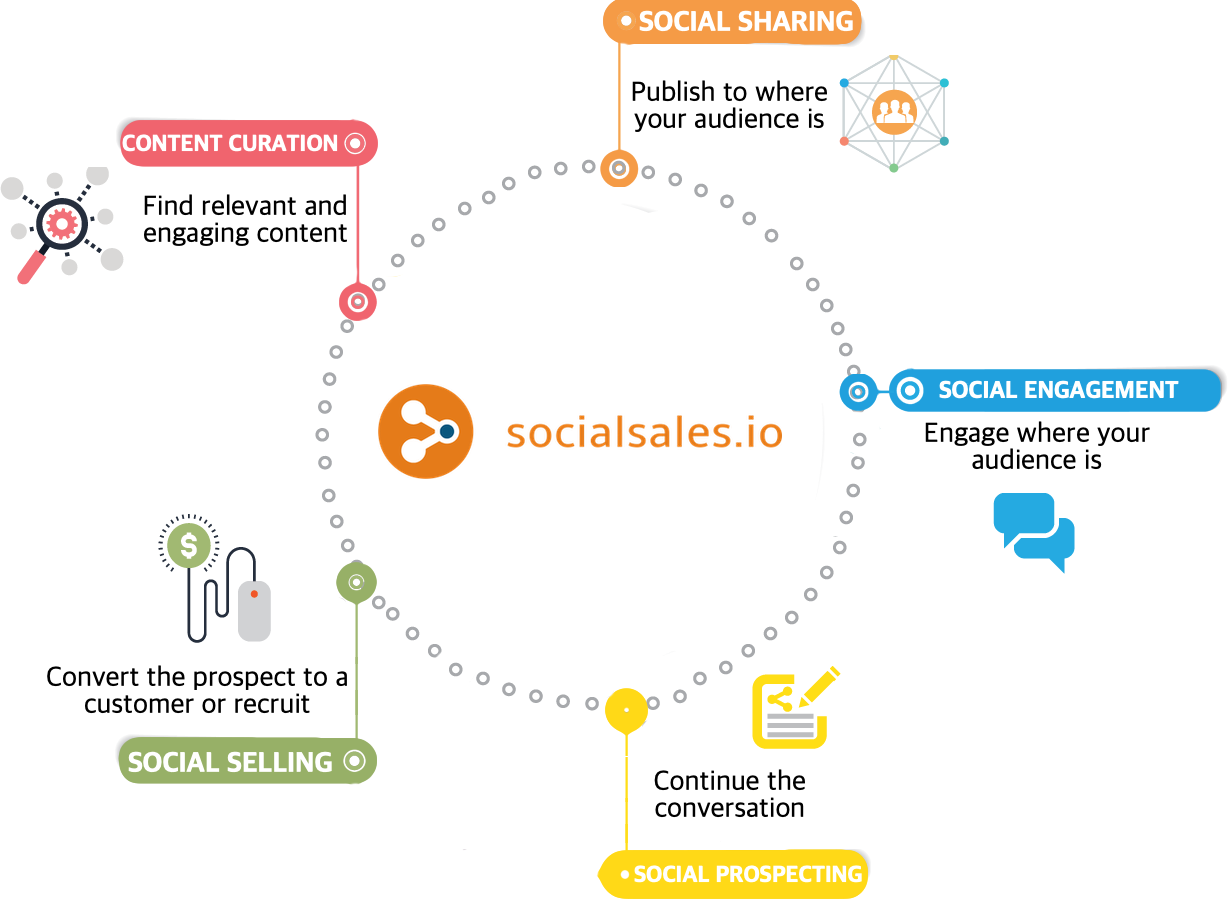 Here's how Socialsales.io helps you grow your social media audience:
Easily find engaging content to share with our Content Curator.
Save time by scheduling your posts in advance with our Social Queue.
Add a personalized Call-to-Action on every social share.
Create beautiful landing pages to convert your leads into customers.
Stay connected and engage with prospects using our mobile app activity notifications.
Your Content Curator
Finding good content to share on social media can be time consuming, especially when you have a specific topic in mind. We often find that we stumble across good content when we aren't looking for it, but when it comes time to fill your social calendar it can be hard to find those good articles.
Here is where the Content Curator can help. Using a unique algorithm to locate relevant and recent articles, we pull content for you to easily add to your social queue.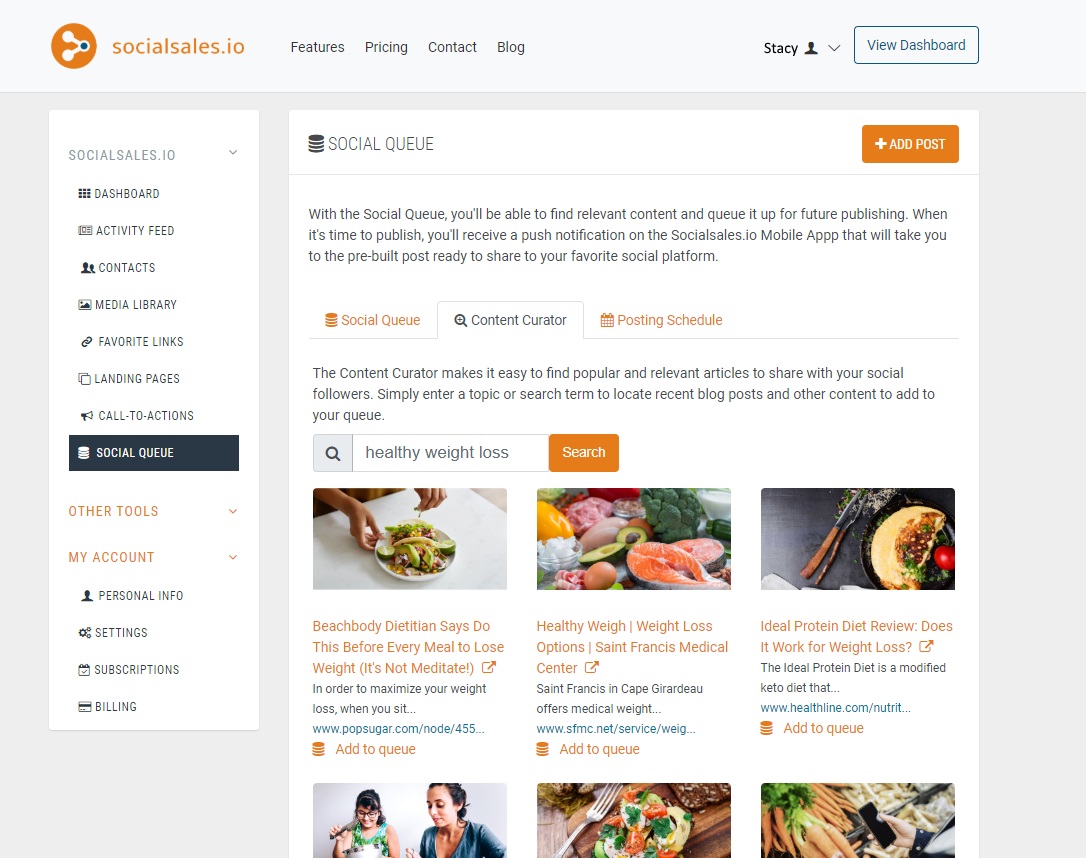 Schedule Your Posts in Advance
Many of our users have very busy schedules, whether that is being a full-time mom while launching a direct sales business or running a business while keeping a full-time job to pay the bills. Either way, most of us aren't able to post to social media during peak times and instead find ourselves spending our weekends planning out our social posts for the week.
Save yourself hours each week by planning out your entire social posting calendar for the upcoming week.
Set when you want to post. Add items to your Social Queue. Get a mobile push notification when it is time to post.
Click. Post. Done.
Add a Personalized Call-to-Action
Sharing great content you find on the web is great for your readers and fans. We all love to find content that our readers connect with.
But what happens when they leave your site or Facebook page to read someone else's article? What if they share the content you found?
How to get those readers to return to your site or take action after enjoying the article you shared.
This is where Call-to-Action overlays come in.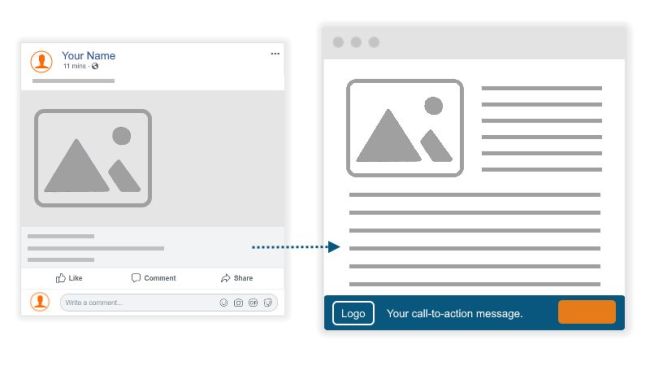 Easily add your personalized virtual business card to every website, image or video you share on social media.
Create Beautiful Landing Pages that Convert
Chances are the replicated website provided by your corporate office doesn't allow you to customize to match your brand and message.
Why not give your social visitors a personalized landing page tailored to you?
Easily create beautiful landing pages in minutes. Edit inline and customize to meet your needs.
No technical expertise or programming skills required.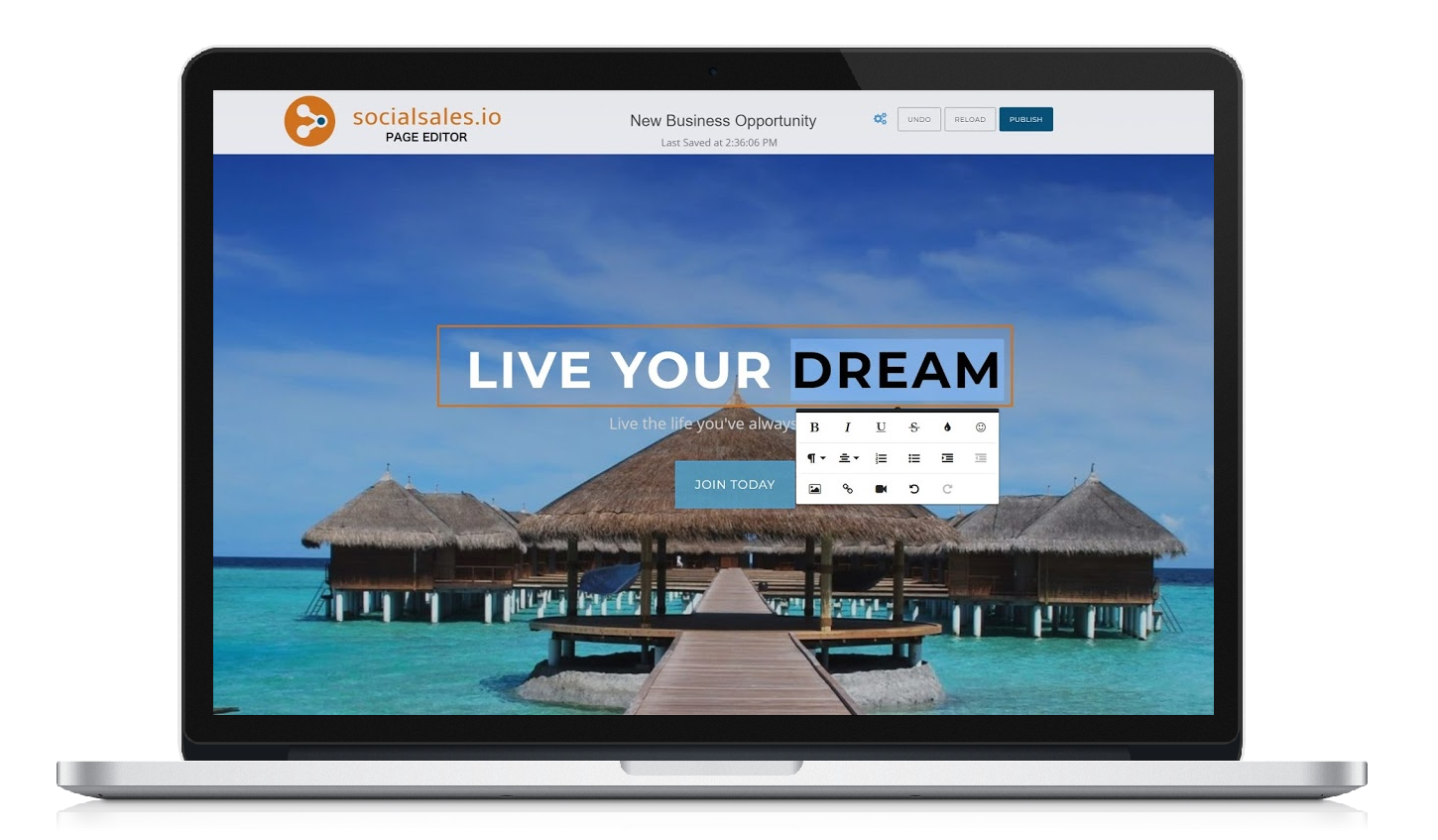 Start with one of our templates or create your own one-page micro-site.
Transition your buyers from social media to your replicated website while telling YOUR story along the way.
Stay Connected With Prospects
No more guessing if your prospect clicked your link or watched your video.
Get instant activity alerts directly to your mobile phone when one of your prospects takes action on your landing pages.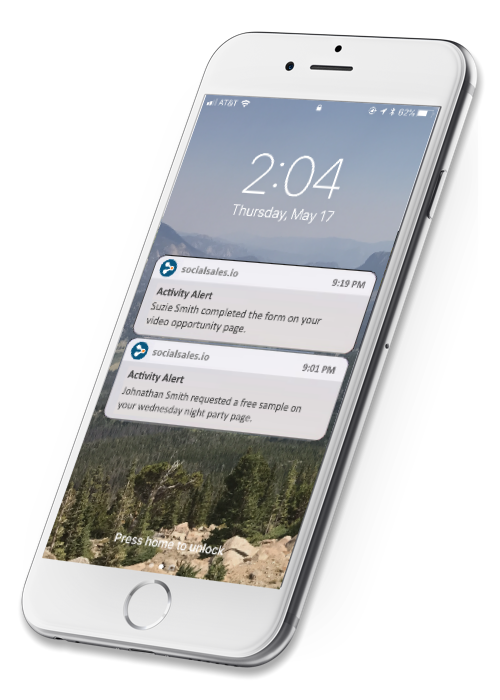 Easily reply via email, text or messenger via our contact manager cards.
Stay engaged with your prospect throughout their buying journey and convert more of your social fans into paying customers.
Ready to check out the new version?
If you have any questions, comments, or additional feedback, email us at hello@Socialsales.io.